Vehicle offers
2021 Mazda BT-50 C
6A 3.0L Dual Cab Pickup SP 4X4
The first-ever Mazda BT-50 SP introduces the significant SP badge to Mazda's utility vehicle for the first time.
Positioned above the luxuriously appointed BT-50 GT Dual Cab Pickup, the factory-produced BT-50 SP uses a combination of black and dark grey exterior features to give a sporty appeal. Building on the highly specified GT, which already includes heated front seats and an auto-dimming interior mirror, the SP adds:
Dark metallic grey roof rails
Black grille
Gunmetal signature wing
Gloss black exterior mirrors
Gloss black door handles
Satin black 18-inch alloy wheels
Dark grey side steps
Driftwood leather and black synthetic suede interior trim
Manually-operated black roller tonneau cover
Tub liner
Gloss black sail-plane sport bar
Front bumper lower decoration trim
Gloss black wheel flares
Offer ends 31 March 2022*
Please note: The content of this page is provided to you on the condition that you undertake all responsibility for assessing the accuracy of the content. RemServ gives no guarantee and accepts no liability for the quality, safety or standard of motor vehicles or parts referred to or the truth or accuracy of the information contained on this page except to the extent required by law including, but not limited to, consumer guarantees under the Australia Consumer Law. You acknowledge that any images shown on this page are for illustration purposes only and may not be an exact representation of the motor vehicle on offer. The specifications you choose may affect the price you pay.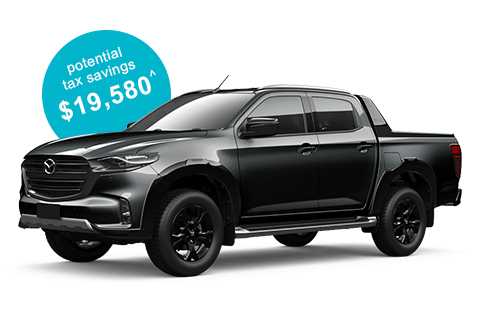 5 Door Light Commercial
4 Cylinder, 3.0 Litre
Switchable 2WD, 4WD
Diesel
140KW Power, 450NM Torque
7.7 L/100km Urban Fuel Economy
5 Star ANCAP Safety Rating
Weekly pricing from *
$313
TERMS AND CONDITIONS
*All eligible vehicles must be ordered before 31/03/2022 (unless extended), or while stocks last. Displayed price is only available through a novated lease administered by RemServ. Weekly costs have been determined based on the following assumptions: 1) The lease is a RemServ fully maintained lease, 2) a 5 year term, 3) a residual value of 28.13% of the vehicle purchase price payable at the end of term, 4) Inclusion of finance and budgeted costs for: fuel, four replacement tyres, maintenance, roadside assistance, registration, CTP and comprehensive insurance, 5) Gross annual salary of $80,000, 6) Vehicle purchased in QLD, 7) 15,000km per annum, 8) Salary Sacrifice using Employee Contribution Method (ECM). The indicative price quoted for the novated lease is based on vehicle quotations RemServ has received within the last 45 days and does not include any optional extras. Any optional extras that you choose will affect the cost of the novated lease and residual value. If you purchase the vehicle on termination of the novated lease, GST will apply on the purchase price you pay at that time. The novated lease offer is based on the assumption outlined above, and is an indicative cost approximation of the selected vehicle and model shown and the amounts may change at the time the novated lease quotation is completed and finalised. Your individual circumstances have not been taken into account as this will affect the overall weekly cost amount and the benefits of a novated lease. These specials cannot be used in conjunction with any other offer.
+RemServ's car procurement services are optional, you may choose to purchase your vehicle through any supplier
Things you need to know: The implications of salary packaging a motor vehicle through a novated leasing arrangement, including tax savings will depend on your individual circumstances. The information in this publication has been prepared by RemServ for general information purposes only, without taking into consideration any individual circumstances. Before acting on any information or entering into a novated leasing arrangement, you should consider your objectives, financial situation and needs, and, take the appropriate legal, financial or other professional advice based upon your own particular circumstances. The Queensland Government strongly recommends that you obtain independent financial advice prior to entering into, or changing the terms of, a salary packaging arrangement.
Conditions and fees apply, along with credit assessment criteria for lease and loan products. The availability of benefits is subject to your employer's approval. RemServ may receive commissions in connection with its services. Actual vehicle price is based on specific vehicle and accessories, prices and savings may vary based on additional options selected with vehicle. RemServ does not act as your agent or representative in respect of the purchase of any vehicle. RemServ does not provide any advice or recommendations in relation to the purchase of any vehicle.
Remuneration Services (Qld) Pty Ltd | ABN 46 093 173 089 (RemServ)